M.Samad Chowdhury MBA, FCMI (UK) is the Chairman and C.E.O of Kushiara Composite Knit Industries Ltd.
He was educated in England and became a fellow of the Institute of Management, England.
Mr.Chowdhury with a distinguished background in catering business has established a successful chain of high-class restaurants including the renowned Rajpoot of Bath, England.

In 1986 he has extended his business interest in Bangladesh by setting up the Textile Industries in Dhaka.

As a result of the success he achieved with the Textile Manufacturing Industry. Mr.Chowdhury expanded the business, establishing a new factory mainly the Kushiara Composite Knit Industries Ltd. This is providing employment for many people as well as supporting the economy of the country. Land Development in Bangladesh is also a part of his total business.
Mr.Chowdhury is involved with many charitable concerns especially in Education, where his benevolent contribution to various institutes is considerable.
CHAIRMAN'S MESSAGE :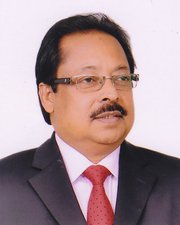 Dear Valued Customers,

We would like to introduce ourselves as one of the leading Manufacturers of Knitted Garments with our own Knitting Dyeing and Finishing units, Supplying top quality Garments all over the world
Our Company is established near Dhaka EPZ area, one hourís journey from Hotel Sonargaon, Dhaka.

In this web site you will find a detailed information of Knitting, Dyeing, Finishing and Garments unit.

The Factory is equipped with the latest machinery.
M.Samad Chowdhury
MBA , FCMI (UK)